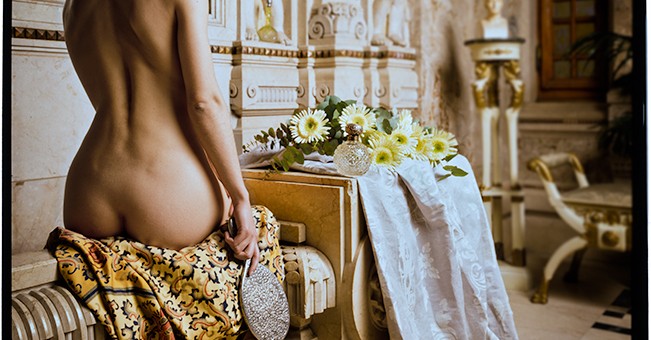 I have had to dig into my archive to find a shot that a musician saw on my website and wishes to use on his album cover.
I got out my transparencies box and started rooting through the work of 10 – 25 years ago to find the 5×4 I was looking for. This was one of a series of shots done for a hairdressing magazine back in 1989 – gosh!
It was mid winter in the Salsomaggiore Spa, and unheated;  the model was in a fur coat till the last minute. Her name was Milena, she had the most perfect hour-glass shape so I don't suppose  many people actually noticed her perfectly tied back hair, which was the whole point of the shoot.
The spa is a wonderful place, Bertolucci shot part of The Last Emperor there in the Chinese hall. A custodian told me that in the late 70s the old hotel, now the admin offices, was cleared and they hurled art nouveau furniture, fixtures and fittings from the windows down into the yard below – breaks your heart.
I haven't shot transparency for nigh on ten years preferring to use negative when I shoot film as it holds more information and is easier to scan – easier to shoot too.
However I was struck by how beautiful transparencies are in their own right, and the bigger they are the more beautiful. But is there anything one could do with them? I was thinking that perhaps it would be possible to cast the smaller 6×7 ones in resin and turn them into paper weights.
But what to do with a 5×4 or the biggest I have, the beautiful 13×18 cm?