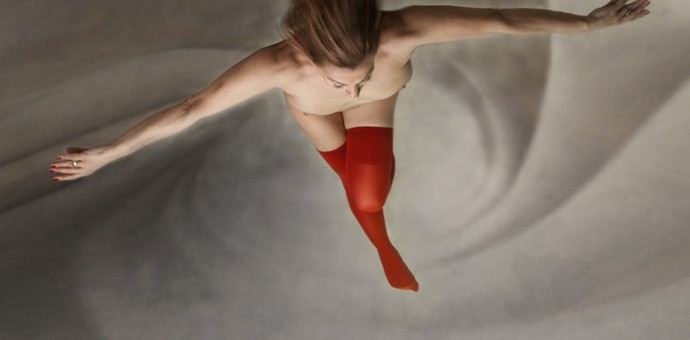 Vargas or 'Varga' was the most famous pin-up artist of all time. I came across him in the 60s when I found piles of Esquire magazines in my uncle's library dating back to the war years. The Varga gatefold was to my teenage eyes the only memorable part of the magazine. Esquire magazine was distributed free to members of the armed forces, my uncle was in the Royal Navy and I like to think of the Varga girls accompanying him on freezing Russian convoy runs to Murmansk.
The Varga girls were reproduced most notably on the noses of allied aircraft in World War II, known to history as 'nose art'. This Varga girl (left) from 1943 was repainted on the nose of Canadian Lancaster 'S for Sugar' known as Sugar Blues in November 1944, she survived the war. Lucky girl, lucky crew.
Alberto Vargas was born in Peru in 1896 of a photographer father and perhaps one can see the influence; he studied painting in France before moving to the United States where he made his name with Esquire, but sadly very little money owing to the unscrupulousness of the aptly named publisher Mr Smart. His brilliance with the airbrush rendered the inimitable sexy soft skin tones and the wispy negligés of his models real and remote simultaneously.
My model Rosy is a friend who used to pose for me when she was a teenager and I was starting out in fashion and portraiture 25 years ago. She brought me luck: I won my only award at The Association of Photographers in London with a picture of her legs.
We lost touch for a while after she married, but she rang me recently to say that she was now single and would like to pose again. I suggested the red stockings because I had had the idea of a donna-aeroplano while watching Flying Down to Rio with my 9 year old daughter. Somehow I find the phrase 'flying down to Rio' evokes both freedom and the exotic. I wanted to take a picture that was sexy, but strong and assertive like Rosy herself.
The model often contributes a lot to the picture quite apart from her physical self. This is what Rosy had to say about the experience:
I posed for Patrick because I admire both him as a person and as an artist.
I was going through a difficult time, a period in which everything seemed to be going against me: I had lost my man and felt betrayed, nothing it seemed would last. I had been battling obstinately to recenter my existence, to arrest that river of negativity that every defeat brings and which threatened to overwhelm me.
To see how Patrick immediately seemed to grasp my frustrated energies, to admire how he interpreted that yearning for a new me. He suggested I bought a pair of red stockings, he saw something fiery, and I suggested the painting Nude in Red Stockings by De Nittis. Thanks to his vision he confirmed my desire to manifest a very feminist expression of what it means to be a woman, a new woman, ready to take flight.
It was while wresting with the image in Photoshop and listening to the Carioca from Flying Down to Rio that the Vargas woman flew in after a 40 year absence. As the man in the film says, "Boy! No wonder it never gets cold in this country!"