Nadia tells her story: "Pleasure is made of simple things. What could perhaps illustrate this best?"
The ingredients of a picture:
Luxe, Calme et Volupté comes from a line taken from Baudelaire's poem Invitation du Voyage, but it was a news item about a chocolate confection popular in communist North Korea that inspired this image, the coveted Choco Pie.
Matisse painted "Luxe, calme et volupté" during his Fauve period near Saint Tropez. It is a line from Baudelaire's "Invitation du Voyage". Matisse throughout his life concerned himself with beauty and did his best to avoid politics and conflict. The poem is an invitation to leave the troubles of the humdrum and the violent, to an imaginary place of luxury, peace and pleasure, very much akin to Matisse's desire: "What I dream of is an art of balance, of purity and serenity, devoid of troubling or depressing subject matter."
A model from far away Singapore
I met my model Nadia via Facebook. She had come across my website and FaceBook fan page whilst still in Singapore; when she met her fiancee and moved to Rome she contacted me. I had been mulling over the Choco Pie idea for over year since I had read an article about how a simple sweet was subverting the regime in North Korea, so when I had the opportunity of using an oriental model the idea was all ready to go.
The Mediterranean beach
We went the three of us, her fiancé came too and proved a very able assistant, to Montalto di Castro and a stretch of beach I call the Skeleton Coast. It is privately owned and is only accessible via boat. Franco the fisherman, looking more like Charon every year, ferried us over.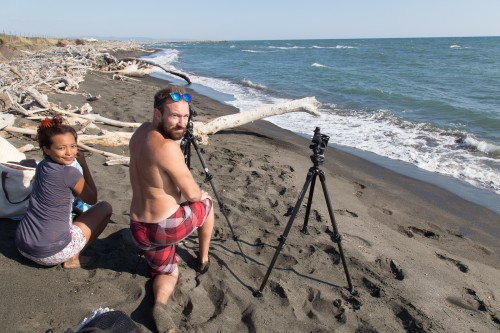 The driftwood can be extraordinarily picturesque and even sculptural, but you never know what you will find from one month to the next.
We tried out two logs, in the event we used the one in the background. Sadly the log I had wanted to use was no longer there, washed away in a storm.
I placed a pack of coffee where I intended to insert the pack of Choco Pies as I couldn't get hold of the real thing, and she held a biscuit in her hand without the packet which was added later. I played around with the colours no end. At first I went for a sort of socialist drab before choosing the regime's own colours, orange and red, also used on the poster of the film "The Interview".
Nadia in my picture is shown in a golden world of her own: or in Baudelaire's words:  "There all is order and beauty, Luxury, peace, and pleasure" – she has in her hand her coveted Choco Pie.
The Choco Pie Revolution?
Could a humble marshmallow overturn the cruellest of communist dictatorships?
The Choco Pie has become something of a symbol of unattainable luxury in North Korea. The simple marshmallow confection in a gaudy red wrapper was imported into North Korea from the South and for a while was condoned by the Communist regime – indeed it was often used as a perk for workers who excelled themselves or exceeded production targets. Things turned sour however when Choco Pies began to be used as an alternative currency and dictator Kim Jong Un's regime banned them.
South Koreans are a canny lot and they started to send over helium balloons carrying the outlawed confection, on one mass airlift 50 balloons carried 10,000 pies. North Korean soldiers have fired on the balloons and Kim Jong Un says he will shell the launching pad which is close to the border.
There is a precedent for ballooning consumer goods over the border: West Germany sent "mauerseglers" (wall sailors) over to the East – and maybe these 'wall sailors' along with Western TV did more to bring down Communism than military threats.
In North Korea where the skeletal hand of the totalitarian regime embraces  everyone, the humble Choco Pie is a taste from another world: luxe, calme et volupté.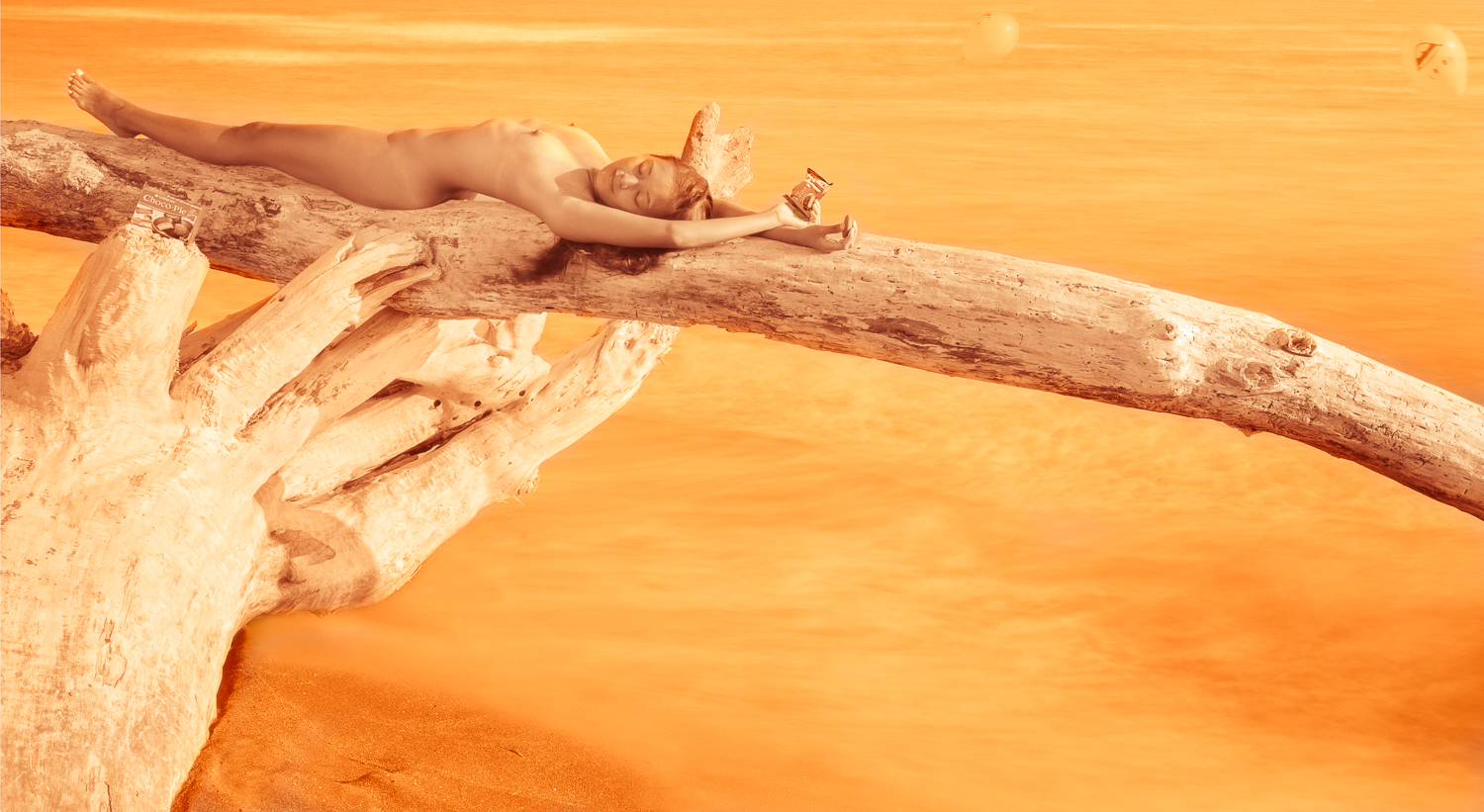 See Luxe, Calme et Volupté on Patrick Richmond Nicholas – Art Photography Portfolio.
I asked the model Nadia to add a few words.
"Pleasure is made of simple things. What could perhaps illustrate this best? Inspired by a feud between North and South Korea, we kept this question in mind till the afternoon when we found ourselves on a tiny fisherman's boat, bound for a strip of beach called Skeleton Shore. Washed up tree trunks bore eerie resemblances to bones of mythic or prehistoric animals. It was with this kind of curiosity that I first contacted Patrick.
I was fascinated by the way he spun his stories, melding Greek myths into his compositions and even a mention of Walt Whitman or two. I thought about what it meant to feel "illumed by a golden fire" of being part of a world sinking to rest, even if only for a while. With the sun on my body and the sound of the waves, ebbing and flowing as I lay in repose I felt all the pieces of me drift away, and just for a moment, I felt truly closer to bliss."