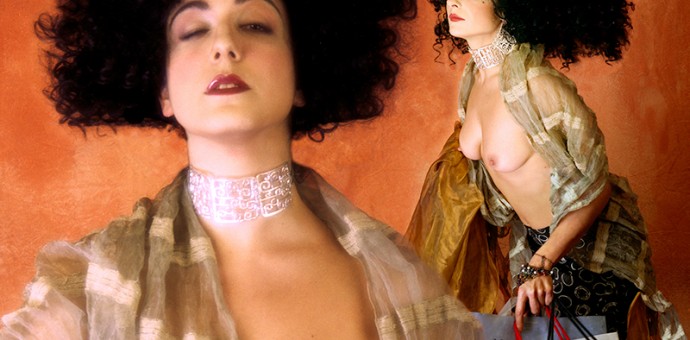 Klimt painted two versions of the bloody biblical story of the slaying of Holofernes by the Jewish patriot Judith, the second he painted after his visit to Ravenna where the Byzantine gold mosaics had a profound affect on his technique. In both versions Judith holds the decapitated head of Holofernes by the hair. For the Symbolist, woman was desirable but threatening and often deadly – the wages of pleasure were illness and death from syphilis. Whereas in the eighteenth century artists tended to portray wayward men as being responsible, by the nineteenth blame seems to have shifted to women – possibly because the casualty lists among artists had lengthened to endemic levels.
Even before his visit to the  Byzantine treasures of Ravenna, Klimt  already seems to have been the sort of orientalist that makes forebears like Gérome and Ingres look like dilettantes. His work really is oriental, it is not just a depiction of a an oriental scene or a westernised odalisque. The combination of decorative arts with eastern sensualism makes Klimt truly radical. Even his lifestyle reminds us of an Ottoman pasha. Of course he could not have painted what he did in Istanbul or  Damascus: Vienna, on the East – West fault line was the only place in which his sort of genius could have flourished, and just in time too. Klimt died in 1918 at fifty-five, of a stroke brought about by Syphilis, the same year as the demise of the Empire he lived at the heart of.
When I was an art student in the early '70s Klimt was popular amongst poster buyers along with Beardsley, Mucha and Jimmy Hendrix, but not with the art establishment – perhaps the poster is the canary of the art world. I remember being struck by a single painting of his at the National Gallery in  London 1976. It was rarely displayed and when I returned it had gone again.
Klimt made his daily bread as a portraitist and  gave his sitters little choice but to acquire their dresses from Emilie Floge, his muse, lover and owner of a Viennese couture fashion house; this drew me to the idea of two women wearing the same dress. A friend made the silver chokers that are worn by both. I shot the women separately as we only had one wig.
Rather like the Pasquino statue in Rome where Romans stick satyrical verses , I use the carrier bag as a blackboard for 'pasquinades' or lampoons. Pasquino's statue near Piazza Navona is constantly updated, Romans have as much to gripe about as ever.
In the original paintings Klimt has Judith holding Holofernes' head, the general who deported the Jews to Babylon. In the place of his decapitated head I have inserted, in an afro-wig, prime minister Silvio Berlusconi who brought Babylon to Italy.
Watch a  behind-the-scenes documentary in English about the shooting of this image
Tecnical notes. Camera: Mamiya RB67, using Kodak 160NC and digital, a Canon D30. The set was in a living room in Bologna. I shot it the same afternoon as Correspondent ; the models are Katia (left) who is also in Correspondent, and Daniella (right). I shot the two women separately as I only had one wig.
The women had come over from London especially for the shoot so you can imagine how mortified I was when the laboratory in Viterbo almost completely ruined all the films in development. 
Luckily I had a digital shot which I'd done of Daniella's face just to check her expression so I blended her head in with the semi-ruined scanned film of the body which thankfully saved the day. The laboratory didn't even apologise. I eventually got ten rolls of 120 film out of them in compensation – which turned out on further examination to be out of date.
At exhibitions people sometimes ask me if my pictures are done using digital or film- I use both. But, if someone starts insisting that film is better I use this picture as an example – I ask them if they can tell which part is film and which digital.
You can read journalist Katia's entertaining account of the shoot from the model's point of view here
Make-up: Simonetta Baletti of Art and Make-up