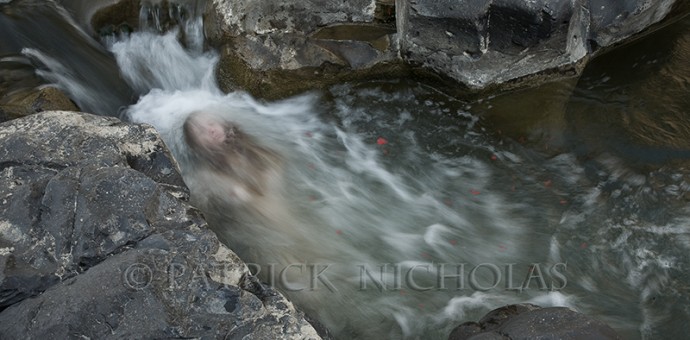 I went to Art College in Kingston, London, on the banks of a shallow, weedy and unremarkable river with the evocative name of Hogsmill. We were told in History of Art that Millais painted his famous picture further up-stream. Millais' model was Elizabeth Siddal wife of his friend and fellow Pre-Raphaelite Rossetti. She was to die later of a laudanum overdose. Millais although now rehabilitated by the public was viewed with distaste by the Tate Gallery's  director Nicholas Serota who  moved Millais' statue to the rear of the building in 2000.
Amy, the model, was a very plucky American who braved the cold waters in early May. She had travelled all the way from the States to be photographed by me  after seeing an article about the Belle in an Australian  magazine. I had to take  a lot of shots as it was so difficult for her to remain just below the surface of the racing stream. My version of Ophelia was photographed in a torrent, the Flora, near Vulci on the Tuscan borders – it does not look anything like the Hogsmill.
I wonder why Ophelia has never been made into an opera?