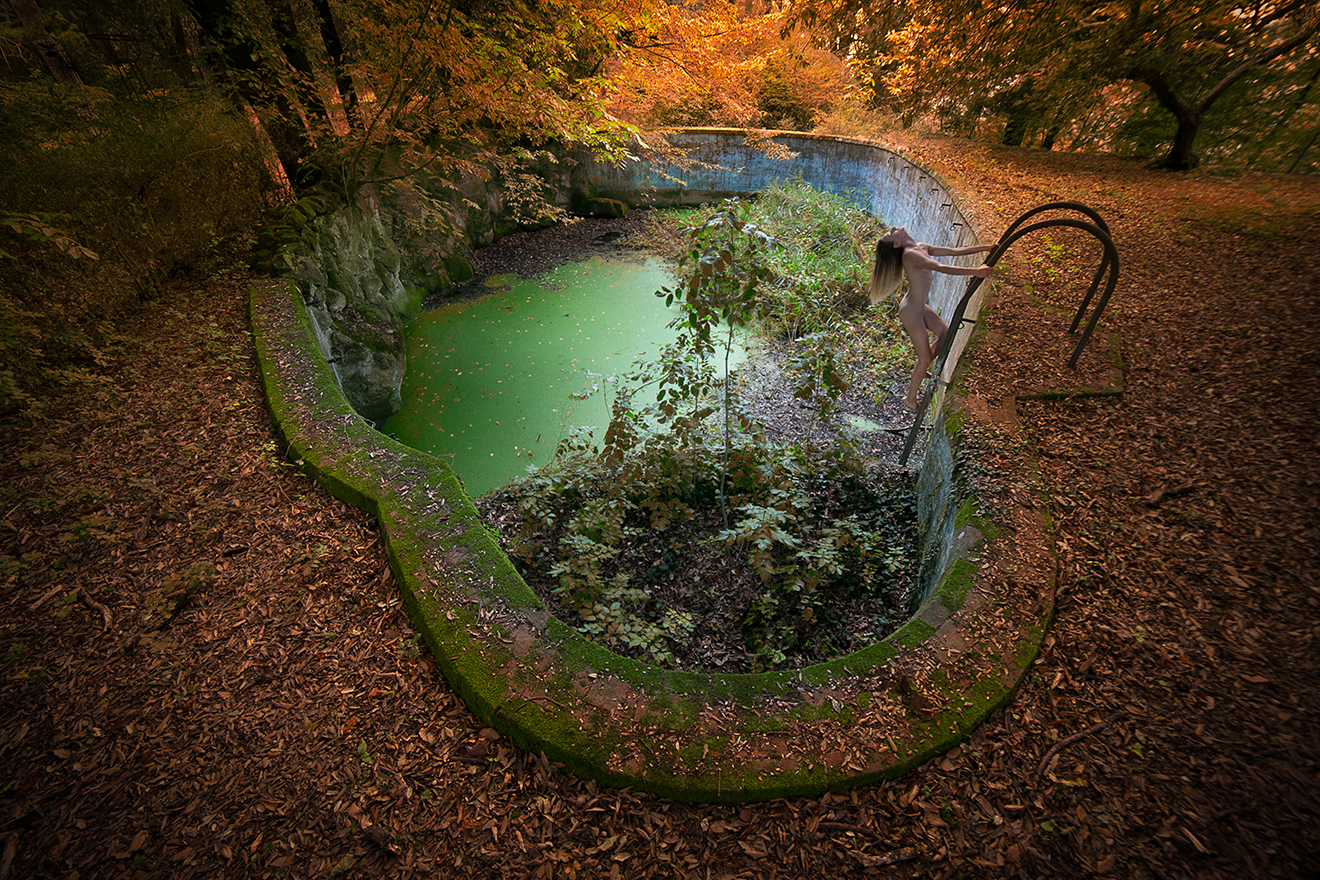 French poet and Austrian painter
Few poets have summed up the melancholy of autumn in words better than Paul Verlaine, and Egon Schiele in paint. This picture was inspired both by Verlaine's elegiac poem Chanson D'automne (1866) and Egon Schiele's Four Trees (1917).
The drawn out sighs
Of the violins
Of autumn
Wound my heart
With a monotonous
languor
 Six lines from Verlaine have come to symbolise days of hope – they were used by BBC Radio Londres in 1944 to prepare the French resistance to begin sabotage operations as part of the D-Day landings in Normandy. The Second World War would be over within a year.
The abandoned Cahen garden and pool

This picture was taken late afternoon in the grounds of the Cahen Castle near Orvieto. It is a mournful place, even more so in mid October. The Cahens were a banking family from Antwerp who had helped finance the Italian Unification in the mid-nineteenth century, the only continental bankers to do so, the lions' share came from British and American Freemasons. A grateful King Emanuel offered the Cahens the chance to develop Rome in the 1870s after which Count Edoardo Cahen bought a ramshackle castle in the middle of nowhere to redevelop. His Anglo-Greek wife Cristina Spartali had grown up in the beau-monde of Pre-Raphaelite London. She had been photographed by Julia Margaret Cameron and painted by Whistler – she absolutely refused to live there. So she unsuccessfully attempted to divorce Cahen and died alone of an overdose of chloral in 1884 in the Tyrol.
Sad end of the Cahens
Their two sons fled Italy in 1938 when the fascists introduced the racial laws against Jews, never to return. Several of their close relatives in Belgium perished.
Neither son left heirs, no children ever splashed in the pool which remains a witness to a dark period in Italian history.