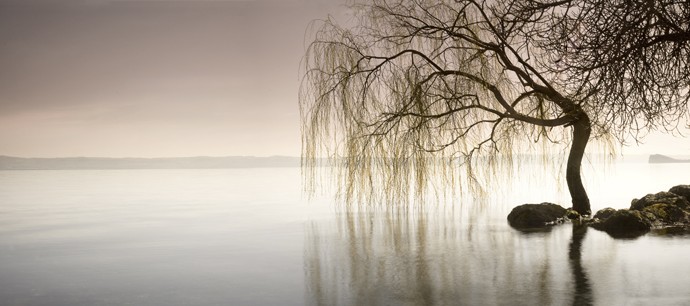 In early spring 2009 I took the picture above of a weeping willow on Lake Bolsena, Italy. A fortnight later a high wind ripped off  the upper bough and for at least a couple of years it lay semi-submerged, rotting in the shallow water below.
Willow Pattern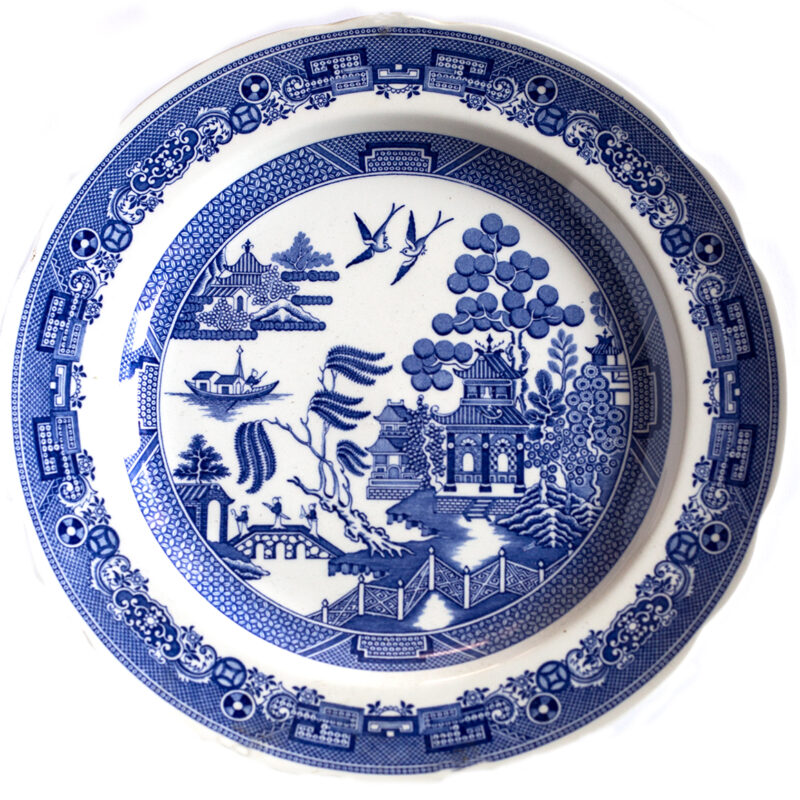 I grew up with Willow Pattern. As a child I was fascinated by the seemingly endless sherds of blue and white china that I could excavate from the bottom of Granny's garden in Oxford, nigh on a hundred years of broken crockery.
Willow pattern is Chinese in style but actually English in origin as is the romantic, but tragic tale that is supposed to be behind the illustration. The fable has been the source of a comic opera and also an early film and a more recent animation by Barry Purves called 'Screen Play'.
Marc Bolan gave the title
I said to myself that when it was finally swept away I would set one of my Belle pictures under this beautiful maimed tree. I thought a refrain from a very short Tyrannosaurus Rex song of 1969 called The Misty Coast of Albany would make suitably moody title, weeping willow woman.
So I searched for a woman of willowy build with suitably long hair and found Kerstin, one of the many northerners who like myself has chosen to live in the magical part of the world that is Central Italy.
The Shoot on Lake Bolsena
We met at 6.30 on a warm morning in mid May. I was ever so slightly preoccupied that she might not be able to hold the pose I hoped would mirror the bend of the tree. I need not have worried, she practices yoga. She was so proficient and subtle that we would have finished in a quarter of an hour had I not realised that there were so many fronds behind her that they spoiled her silhouette.
I love trees and hated committing an act of vandalism, but the picture I felt looked the better for it.
A mere ten minutes later we were sitting having breakfast of rum babas from a Bolsena pasticceria.
I used two neutral density filters and a polariser to get the shutter speed sufficiently low to smooth out the water and render it a mess of abstract shapes. All this extra glass in front of the lens rendered the image a horrid purply colour in which it was hard to see on the camera display what was going on.
Back at base in front of the computer the picture gradually begins to take form. Firstly the vertical shots were stitched together to make a panoramic image. Then what was to be done about that awful purple haze?
In fact with a bit of tweaking the original colours could in fact be resurrected, yet that left a very literal looking image; what I was after was a certain….. melancholic, mood. In fact something like a Japanese screen.
The Japanese Screen
I wanted to render something of the essential poetry of Japanese screen painting as in this picture Heron and Willow by Kiitsu.
After a saving a few different versions I felt I was getting there but that it was still too…literal.
Whistler's Influence
By now it was late and I was heading for bed so I picked up the book I was reading, a biography of the painter James Whistler, looked at the man himself and asked him straight out, 'what would you do?' He told me to make it more mysterious, more hazy.
This is another of my tree based pictures. Others are: Daphne in which the nymph turns into a laurel tree to avoid being raped by Apollo. Sylvia and others in the Metamorphosis portfolio. Flora Furiosa is a picture of a burning forest; Lilith is photographed among tree roots, Hamadryads is about the tragedy of the tree nymphs whose lives last only as long as the trees they inhabit; Luxe, Calme et Volupté where the woman lies on a bleached tree trunk which appears to grab her like a sinister, skeletal hand. There are others in the portfolio, and others still to come.
Weeping willow woman
Ladled on the arm
Of the misty coast of Albany
With its charm
Pining pillar of the wild willows end
Womanly waiting
For your manly friend.